Discovery Vitality and GTR
Introduction: What is Vitality?
Vitality is a comprehensive wellness programme that increases member engagement with healthy behaviours. 
The programme has a three-step approach to wellness: 
Vitality is a life-changing programme. It offers members fantastic rewards and financial gain, as well as a new way of living a healthier, longer life – and that is a value proposition unique to Discovery. 
How Vitality Works 
Discovery Vitality operates as three core programmes that encourage and reward members for living healthier, driving well and banking well. These programmes run across the Discovery product range: 

*Vitality rewards 
Rewards are paid as cash back to VitalityHealth members. HealthyCare rewards are paid into the member's Clicks ClubCard or Dis-Chem loyalty card. Rewards are paid as Discovery Miles to members who have a Discovery Miles-linked Discovery Bank account. Earn more Discovery Miles with Vitality Active Rewards through Vitality Health, Vitality Drive and Vitality Money.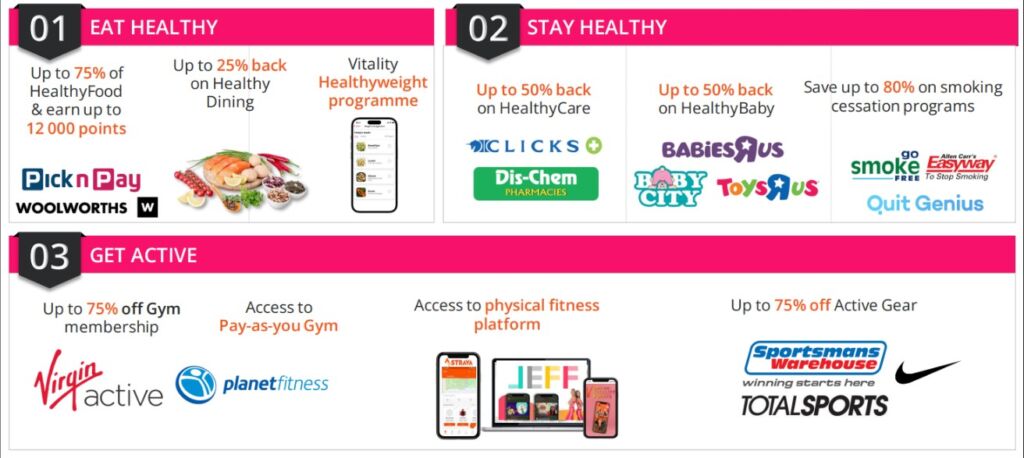 Getting started with Vitality:
Vitality Active rewards:
Vitality Active Gear - Fitness devices and Nike performance gear:
Vitality Active Gear – Sports gear and equipment:
How to download STRAVA and link it to the Discovery App:
Team Vitality | STRAVA:
How to link your Garmin to the Discovery App:
Fitbit:
Samsung Health
Vitality Active Gear – Sports gear and equipment:
Huawei:
Apple Health:
Reach out to your broker to learn more. If you do not have a broker, you can contact the DCS George branch on 044 802 5600 for

assistance

.